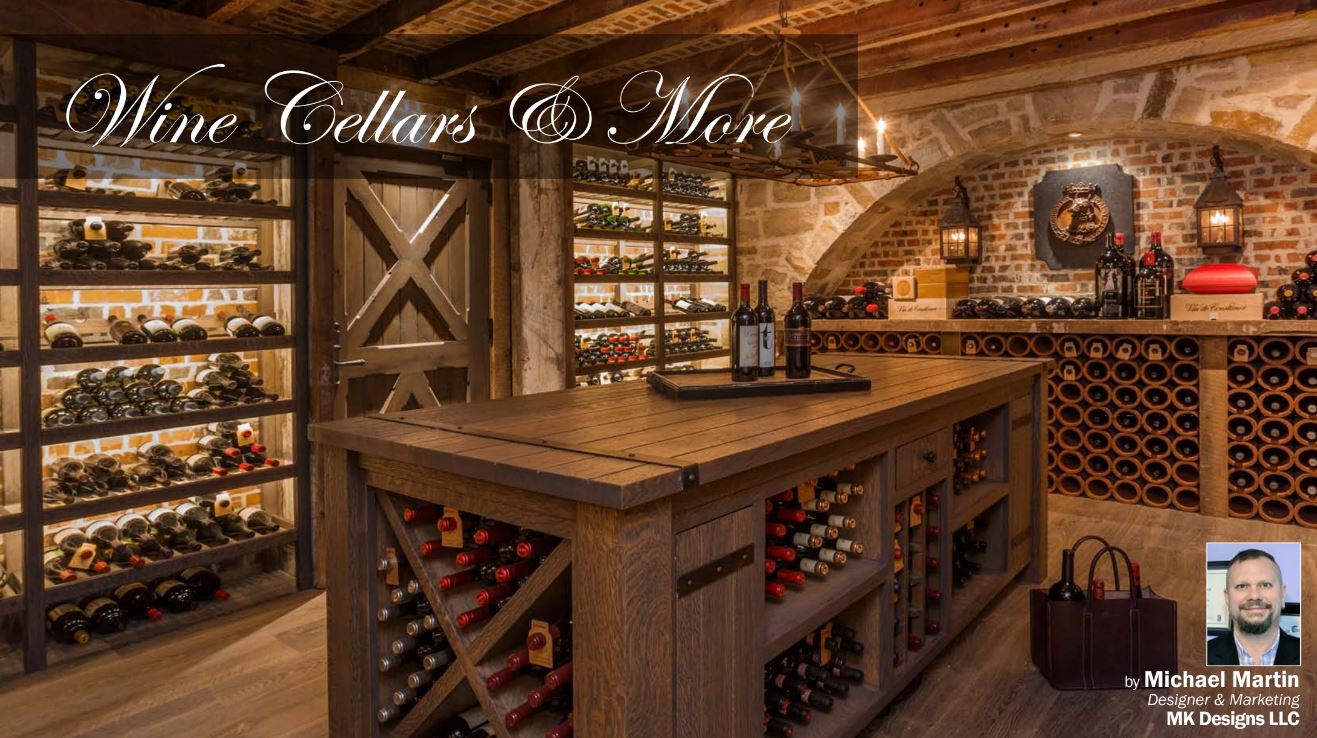 Wine Cellars & More - MK Desgins (Spring 2018)
by Michael Martin, Designer & Marketing, MK Designs LLC

Manage your Dollars and Sense during a Home Remodeling Project (Fall 2017)

by David Stokes, Owner, DM Stokes Home Renovations

Basement Space for Everyone to Play (Spring 2016)

by Fred Heim, Vice President of Operations, Renovations
by Garman

It's time! You are ready to remodel..Now What? (Winter 2016)

by Eric Weaver, President, Pinnacle Building & Design, Inc.

The Laundry Room. The Room Forgotten (Winter 2016)

by Nicole R. Martin, Remodeling Project Specialist, Brubaker, Inc.

Renovate Within your Box (Fall 2015)

by David Stokes, Owner, DM Stokes Home Renovations

Flooring for Outdoor Living (Summer 2015)
by Jere Kochel, Store Manager, Martin's Flooring Inc., Fivepointville

What's your Remodeling Spark? (Winter 2015)
by Bill Patrick, Senior Designer & Manager Remodeling Division EG Stoltzfus Designed Homes & Remodeling

Bringing the Basement to... (Summer 2014) A Higher Level
by Eric Weaver President Pinnacle Building & Design, Inc.

Renovate or Rebuild? (Spring 2014) Things to consider
by Fred Heim, Vice Presidnet of Operations, Renovations
by Garman

Fireplaces Purpose and Placement (Summer 2012)
by Jared Erb, Designer, Custom Home Group, Inc.

Home Expansion for an Expanding Family (Fall 2011)
by Steve Black, Owner, Stephen Black Builders, Inc.

6 Questions to Ask Your Remodeling Contractor (Fall 2010)
by J.D. Burkholder, President, Affordable Bathrooms and Kitchens

The Path to a Successful Project (Summer 2009)
by Tim Zehr, Senior Designer/Estimator, Metzler Home Builders, Inc.

Sunroom Additions - 10 Things to Consider(Summer 2009)
by Belinda Adamson, Chief Executive Officer, Aspen Home Improvement, Inc.

Thaddeus Stevens College of Technology - Leading the Way in Preservation (Spring 2009)
by Erica Smith, Freelance Writer

Reasons for Renovating (Fall 2008)
by Laura Schroeder, Marketing Director, Duff Builders, Lancaster

Room to Breathe (Spring 2008) A SUNROOM to Fit Your Lifestyle
by Susan Kerch, Marketing & Events Coordinator, Four Seasons Sunrooms,Lancaster

Habitat Re-Store (Spring 2008) supporting the community through the support of its donors
by Eleisha Cutts, Freelance Writer

Meet LOCAL CRAFTSMAN Dave Weatherlow (Winter 2008)
by Judi Rineer, Freelance Writer, Lancaster

Let the GAMES Begin (Winter 2008) converting an unfinished basement into a family fun room
by Sam Altdoerffer, Assistant Manager, Barstools & Billiards, Lancaster

Investing in a FUN Future (Summer 2007) home A/V is one of the most rewarding investments you can make
by Russell G. Frost, Marketing Manager, WeeBee Audio Video

Building Codes (Summer 2007) why they are in the homeowners best interest
by Donald C. Forry, Director of Code Compliance

Renovating or Adding On? (Winter 2007) here's what to expect
by Rick Martin, President, Wheatland Custom Homes